In an era where online visibility can make or break a local business, Google Local Services Ads (LSAs) have emerged as a game-changing tool. These ads, specifically designed to cater to the needs of local businesses, offer an effective way to connect with potential customers and boost visibility in an increasingly digital marketplace. In this article, we'll explore the ins and outs of Google Local Services Ads, from their unique features to the steps involved in setting them up and managing them efficiently.
What Are Google Local Services Ads?
Google Local Services Ads are a specialised advertising platform tailored for local businesses. Unlike traditional pay-per-click (PPC) ads that focus on clicks, LSAs center around pay-per-lead. These ads appear prominently at the top of Google search results when users search for local services, making them a prime choice for businesses looking to capture the attention of their target audience.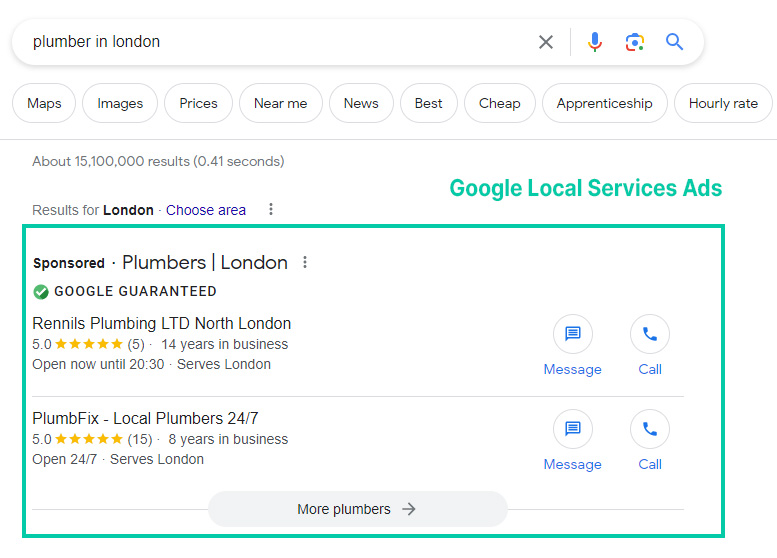 The Difference Between Local Services Ads and PPC
While both Local Services Ads and PPC campaigns aim to drive online visibility and engagement, they differ in crucial aspects. PPC ads are primarily click-driven, charging businesses for each click received. In contrast, LSAs operate on a pay-per-lead model, charging only when a potential customer contacts the business directly through the ad. This distinction aligns LSAs more closely with actual customer engagement and interaction.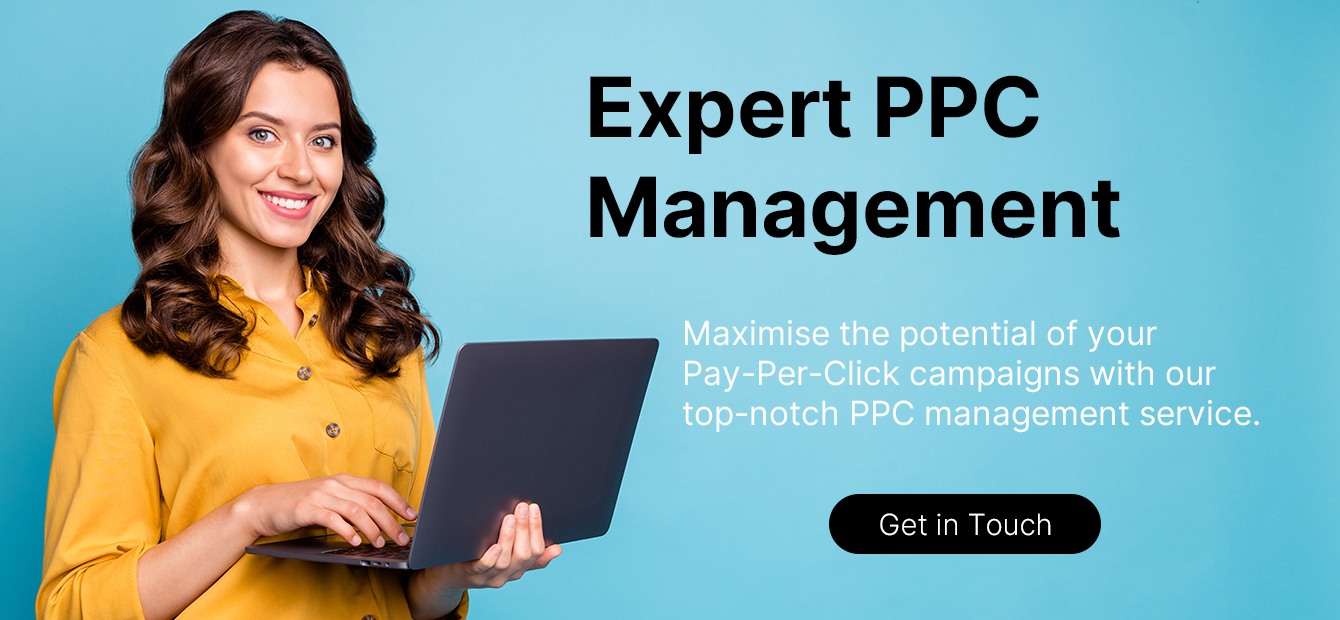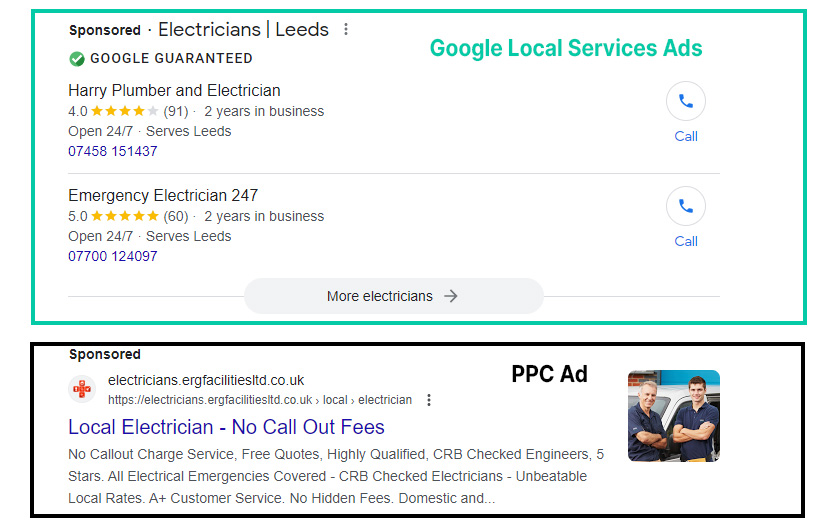 Determining Eligibility for Local Services Ads for Your Business
Currently, local search ads are exclusively accessible for specific industries or service categories.
Google fully supports Local Service Ads for the following industries in the UK:
Appliance repair services
Carpenters
Carpet cleaning services
Cleaning services
Worktop services
Electricians
Fencing services
Flooring services
Foundations services
Garage door services
General contractor services
Handyman
Home inspection services
HVAC (heating or air conditioning)
Junk removal services
Landscaping services
Lawn care services
Moving services
Pest control services
Plumbers
Pool cleaning services
Pool contracting services
Roofers
Snow removal services
Tree services
Water damage services
Window cleaning services
Window repair services
Please note that the list of supported services might have undergone changes subsequent to the publication of this article. Use Google to check your business eligibility.
What Is the Cost of Google Local Services Ads?
The cost of Google Local Services Ads varies depending on factors such as location, industry, competition, and the bids set by businesses. Since LSAs operate on a pay-per-lead model, costs are associated with the number of qualified leads generated through the ad. This pay-per-lead approach allows businesses to invest in leads that have a higher potential for conversion.
To obtain a rough estimate, you can utilise Google's cost tool.
What Is Google Guarantee?
Google Guarantee is a badge of trust and credibility displayed on businesses that have passed Google's verification process and offer exceptional customer service. When a business is Google Guaranteed, customers are protected with a satisfaction guarantee, reinforcing confidence in the quality of services provided.
Another advantage of the Google Guarantee badge is its potential to offer customers a refund in cases of dissatisfaction with the service quality, without incurring you any charges. This reimbursement can extend up to 1,500 GBP within the United Kingdom.
Please bear in mind that customers are required to schedule services via Local Search Ads to qualify for potential reimbursement. It's essential to note that the decision to offer reimbursement rests entirely within Google's discretion.
What Is Google Screened?
Similar to Google Guarantee, Google Screened is a verification process for professional service providers, showcasing businesses that have been screened for qualifications, licenses, and background checks. This badge enhances trust and encourages potential customers to engage with businesses that meet Google's high standards.
How to Set Up Google Local Services Ads
Initiate the setup process by visiting the Google Local Services Ads page.
In case you possess an existing Google Ads account, select "Sign in." Alternatively, if you don't have one, opt for "Get started."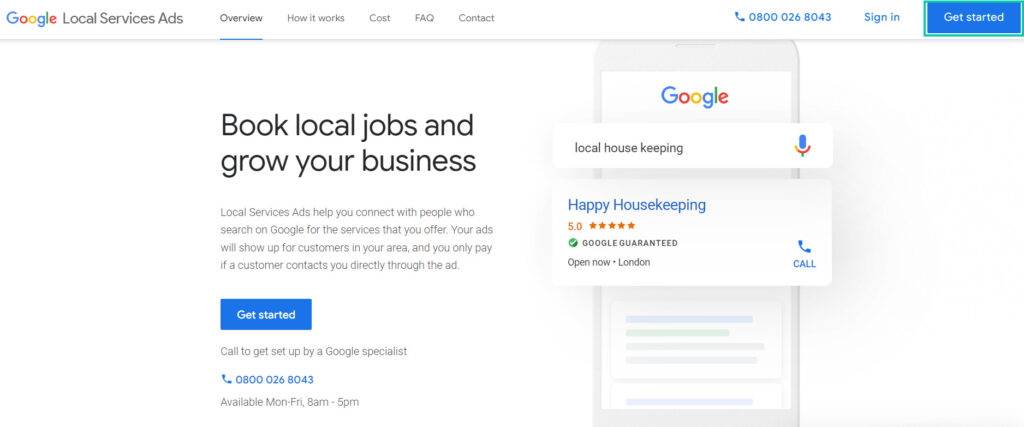 Next, provide your location details and specify your job (services) category. Proceed by selecting "Check Eligibility."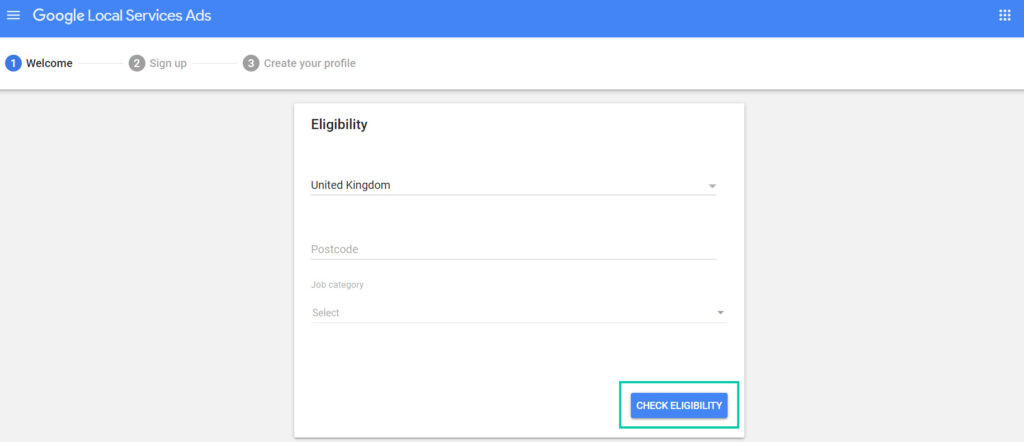 Proceed to establish your profile by entering your business details. This encompasses your business name, address, website, service areas, types of services, etc…
While a selection of fields is discretionary, it's important to note that providing Google with an extensive array of information enhances the probability of securing approval.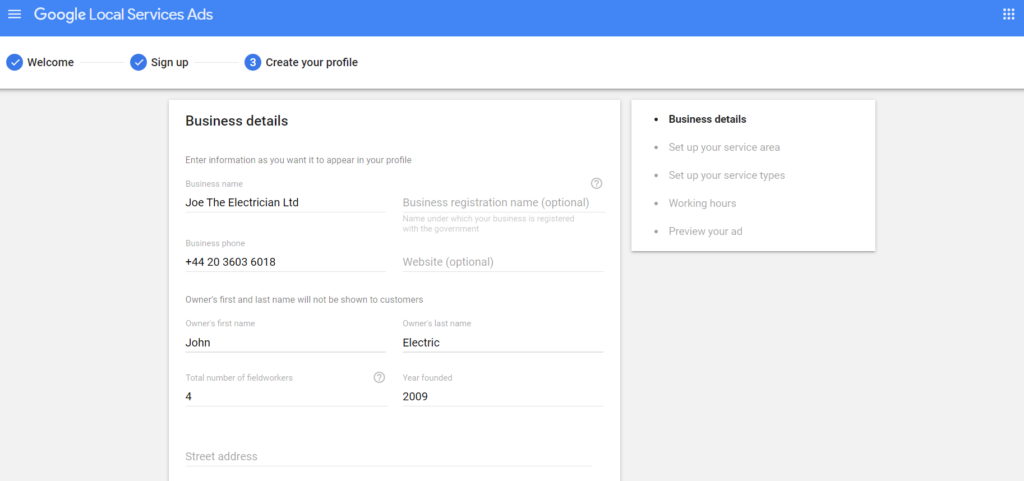 To complete the process, you'll be presented with a preview of your ad and its display format.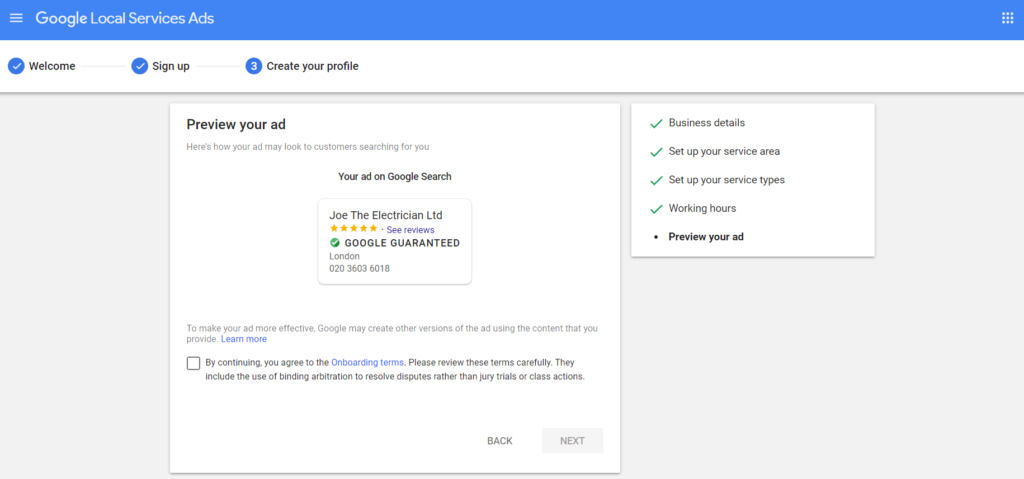 Moving forward, the next stage offers you an opportunity to convey to Google that your business is reliable and trustworthy.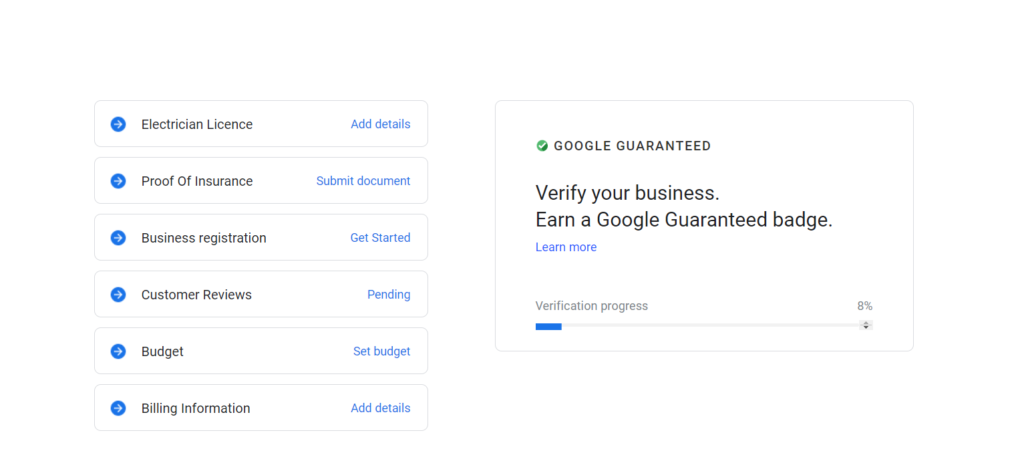 The information you will need to provide will differ depending on where you are situated and the type of service category you fall into.
For example, in the role of an electrician, you will find yourself being requested to supply documentation related to insurance coverage and your valid electrician's license.
Make sure to fill in those sections with as much information as you can. After you've done that, Google will start looking for reviews about your business on your Google Business Profile.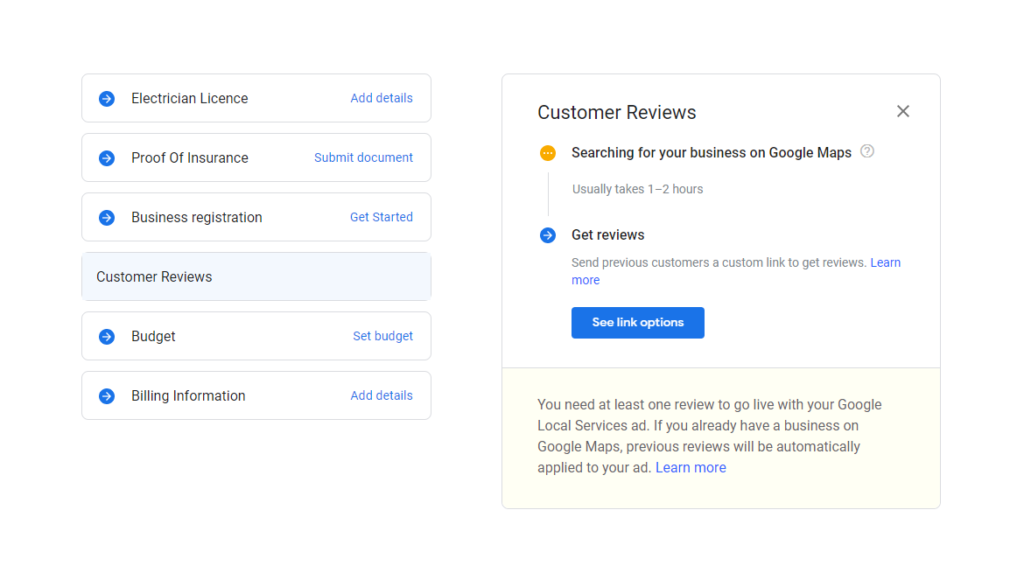 Remember, the number of reviews and your review score are really important factors that affect how Google ranks your business.
Moving forward, you'll need to decide on the bidding strategy you prefer and also establish your weekly budget. You have the option to select from the budgets recommended by Google or define your own custom budget.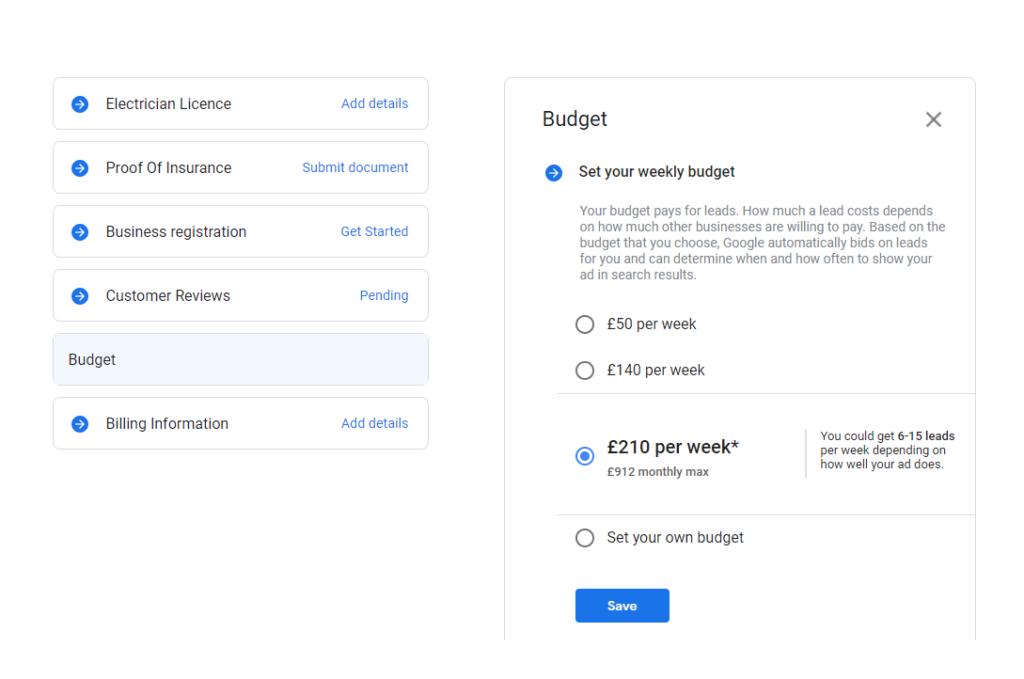 The last task involves inputting your billing details, and with that, you're all set!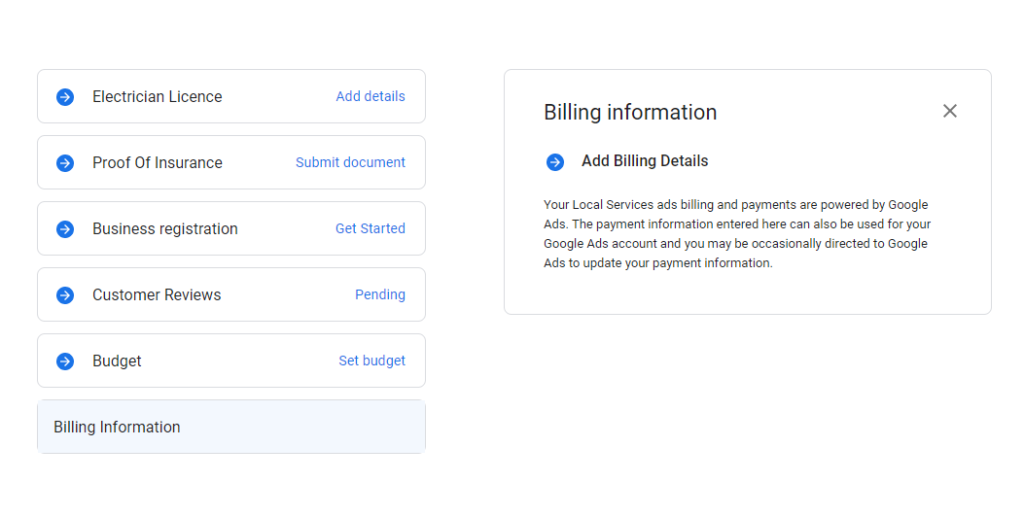 Netzoll: Your Google Local Services Setup Partner
In conclusion, establishing a strong presence on Google Local services can significantly elevate your business's visibility and customer engagement. By following the steps outlined above, you can successfully navigate the process of setting up your Google Business Profile and optimising your online reach. However, if you're seeking a seamless and expert-guided approach to this endeavor, consider partnering with Netzoll.
At Netzoll, we specialise in simplifying the complexities of setting up local service ads on Google. Our dedicated team of professionals is well-versed in the intricacies of Google's platform and can provide tailored solutions to ensure your business shines in the local market. From selecting the right bidding strategy and budget to fine-tuning your business information for maximum impact, we are committed to helping you achieve the best possible results.
Contact Netzoll today and let us assist you in setting up Google Local services, ensuring your business stands out.